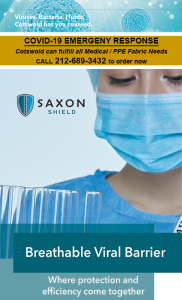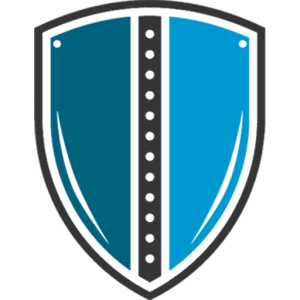 PPE FINISHED PRODUCTS
COTSWOLD is a global leader in the manufacturing of nonwoven face mask components used in the construction of medical, industrial and public face masks.
N95 FACE MASKS
DISPOSABLE FACE MASKS
PPE ISOLATION SUITS
For decades, COTSWOLD has been manufacturing high-performing face mask fabrics, that are used to safeguard and protect healthcare, industrial and retail workers, and medical patients, worldwide.
COTSWOLD inner / outer coverstock:
Soft, gentle on the skin
Non-irritating
Breathable
lightweight
Comfortable for long durations
Compliant with global standards

 
To learn more about COTSWOLD's Face Mask and PPE products, view our Look Book
COTSWOLD also offers our SAXON SHIELD reusable line of anti-microbial and water repellent fabrics, engineered for safety and performance. SAXON SHIELD fabrics are cost effective, durable, protective and comfortable.
To learn more about our SAXON SHIELD fabric offerings, view our Look Book
TO IMMEDIATELY ORDER YOUR MEDICAL / PPE SUPPLIES
CALL 212-689-3432
or email: info@cotswoldindustries.com