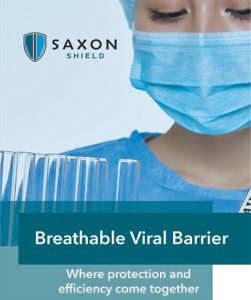 Saxon Shield VIROSĒL
ViroSēl is Cotswold's next generation Breathable Viral Barrier fabric that leverages our decades of experience making innovative fabrics that keep medical professionals protected and comfortable.
Comfortable, breathable, and impervious protection.
ViroSēl passes rigorous industry standards protecting you in the most critical surgical environments.
These standards include ASTM 1671* and ISO 16604** which are used to measure the ability of the fabric to protect against bloodborne pathogens.
Additionally, ViroSēl has a high moisture vapor transmission rate (MVTR) allowing the wearer to remain comfortable and dry during long surgeries.
To learn more, please click here to view TECHNICAL SPECIFICATIONS.
For sales inquiries please contact:
info@cotswoldindustries.com
PHONE 212-689-3432